A recent post discussed the pros and cons of integrating analytics into your SCADA system, while a previous post discussed where APM fits into the EAM ecosystem.
Afterwards, I received questions about where SCADA fits into the EAM ecosystem and how SCADA differs from APM. In this post, I'll address these questions about SCADA, APM, & EAM.
What is SCADA?
Supervisory control and data acquisition (SCADA) refers to any software that receives and processes data from multiple sensors, programmable logic controllers (PLCs), and remote terminal units (RTUs) hardware then displays the data on a human-machine interface (HMI) so that operators can quickly view process operating conditions and adjust process settings to control process performance and product quality. In other words, the SCADA HMI provides two-way communication — displaying incoming data and sending control signals — so you can adjust process settings on the PLCs from any RTU.
Most SCADA systems include at least a basic level of analytics to alert operators to threshold-based alarms and events. SCADA systems also typically integrate with a historian, data logging software that records process measurements, operator instructions, alarms, and event triggers.
What is EAM?
Originally, enterprise asset management systems (EAMs) focused exclusively on the maintenance, reliability, and operations of physical assets — much like computerized maintenance management systems (CMMS). Today, EAMs provide a comprehensive platform for managing maintenance, engineering, operations, materials management, purchasing, and accounting functions to capture assets' total lifecycle.
EAMs are prevalent in asset-intensive industries, such as power generation, mining, oil & gas, defense, and mass-transit. In these industries, the EAM acts as the "system of record" and manages all official inventories, documentation, work tasks, projects, contracts, warranties, etc.
What is APM?
Last — but certainly not least — asset performance management (APM) software provides visualization and analytics that help organizations optimize their assets. APMs provide condition-based and predictive maintenance triggers that generate work orders in the organization's EAM; they also perform risk management and reliability-centered maintenance (RCM) analyses that feed into capital improvement and maintenance plans.
Here's a table comparing the functions of SCADA, APM, & EAM systems so you can see where they overlap and where they differ: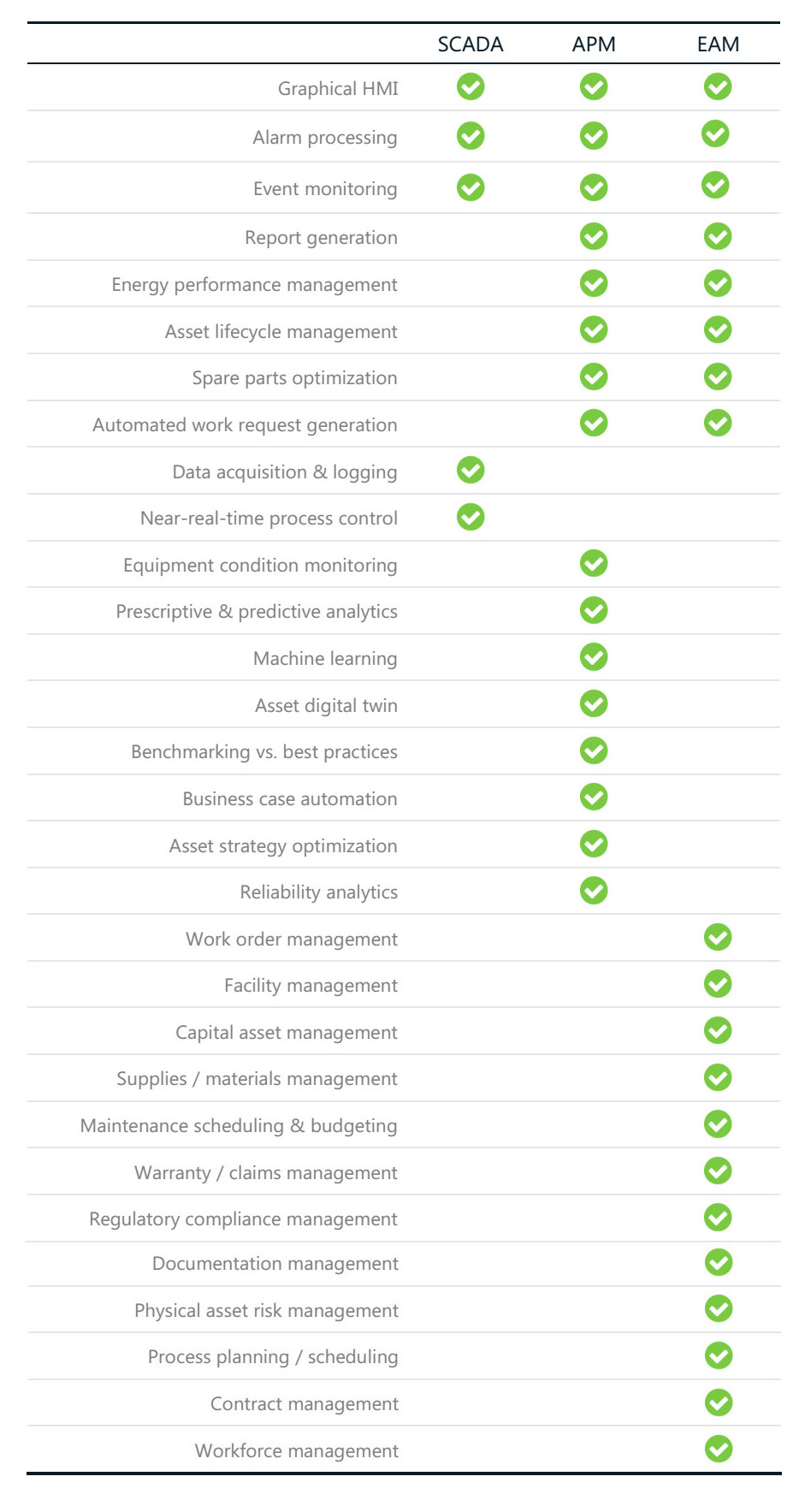 These three systems complement each other: SCADA provides a real-time look at process condition. APM provides the analytics and intelligence to help you assess your options and identify the optimal solution. EAM provides the business process control and work management functions to ensure the right people get that information in a timely manner. Then, SCADA provides the means to implement any process changes.
For example, here at Motors@Work, we frequently see an arrangement where we receive data from the SCADA system or historian. Motors@Work processes the data, generating intelligence-rich work orders whenever measurements indicate that your motor-driven system does not match its digital twin — indicating the asset needs maintenance attention. We also automatically create capital requests in our clients' EAM whenever automated business cases indicate that asset replacement is cost-effective — among our many other features.
Working together, these systems improve reliability, increase equipment effectiveness, reduce energy expenses, and provide transparency and consistency to your business processes. Gartner reports that integrated SCADA-APM-EAM systems have also been shown to "deliver measureable improvements in availability, as well as reduce maintenance and inventory carrying costs," making them a must for asset-intensive industries. Our case studies show savings of up to 15% by implementing our APM solution.
How would an integrated SCADA – APM – EAM system benefit your organization? Email Nicole at info@motorsatwork.com to learn more.